"Beyond Art Color Therapy" Meditation Technique

Try using a little beyond art color therapy in your meditation practice each day for five minutes. After you see how powerful this art color therapy meditation technique is for your mental health and wellness, you will want to share this with  your clients, or students.
This is the easiest meditation  I have ever used and have been able to see a difference in my own mental health. I am calmer and can focus more. 
I use this Beyond Art Therapy meditation / visual imagery activity with clients and students. This modified Beyond Art Therapy color therapy meditation stems from the Metta meditation. 
I take five to ten minutes each morning after I drink my first cup of coffee. I focus on the words and the colors I use to fill in  the circles of this beyond art color therapy technique.
Materials Needed for Beyond Art Color Therapy Meditation Technique:
Worksheet below
Markers, Crayons, or Highlighters
Directions for Beyond Art Color Therapy Meditation Technique:

1. Ask the client / student to color in the first round of circles and think of their own self. While they are coloring each individual circle have them focus on each statement by saying it aloud, or to themselves.
2. Now, using the second page of the art therapy meditation paper ask the client / student to think of someone they care about. Repeat the same process coloring in each circle as they concentrate on that person and say the statements.
3. Now, using yet another piece of the art therapy meditation paper ask the client / student to think of someone who they are upset with.  Repeat the same process coloring each circle as they concentrate on that person and say the statements.
Page 1 of Beyond Art Therapy Meditation Technique (I Am):
Page Two of Beyond Art Color Therapy  Meditation  Technique (May You Be)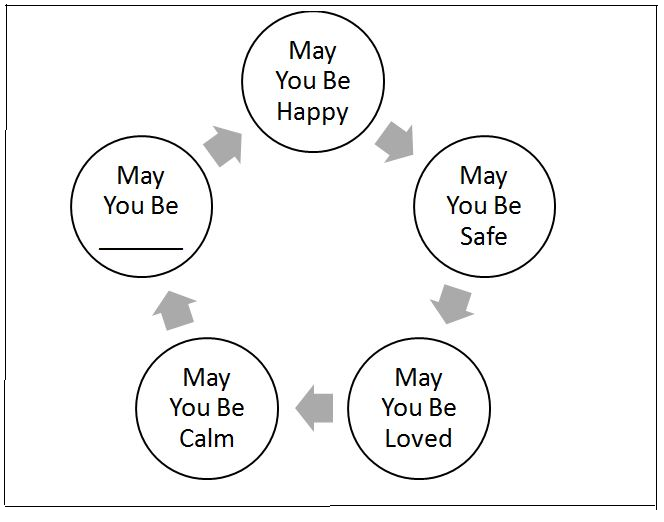 More Art Therapy Meditation & Other Art Therapy Techniques: 
See More Art Therapy Techniques Here
---
Color Meditation Self-Portrait Technique
---
See more Art Therapy Meditation Coloring Page Under the Sea
---
Adult / Child Coloring Book Page Meditation: Paradise Island Technique
---
See more Art Therapy Meditation Coloring Pages Here
Continue to seek training as an art therapist:

House-Tree-Person Art Therapy Technique 


Catastrophe Scale in Art Therapy Activity 

What do the colors mean in Art Therapy & Color Psychology? 

Shelter House Art Therapy Technique 

Art Therapy Group Counseling Activity Worksheet 

Art Therapy Family Portrait Drawing 

Art Therapy Assessment Drawing Technique 

Art Therapy Interpreting Drawings 

Get More Ideas Here: Creative Counseling 101 Home 

Anger Management & Art Therapy Crinkled Paper Technique 

Art Therapy Counseling Pictionary 

Art Therapy Christmas Tree Drawing & World 

The Three Animals Art Therapy Technique

The Kinetic Family Drawing Art Therapy Technique/a> 

The Kinetic School Drawing Art Therapy Technique/a> 

String of Lights Art Therapy & Genogram Drawing Technique 

Art Therapy / Meet in the Middle Activity 

Art Therapy / Anger Mangement Angry Snowball Technique
See More Ideas Here:House / Tree / Sun / Water / Art Therapy Animal Drawing Technique
See our Exciting Selection of eBooks:

Award Winning: 

Creative Counseling 101 eBook 
Our Best Seller!
Step By Step Therapy:Learn how to be a more Creative Therapist with the Book that started it all!- Graduate School Counseling book used by hundreds of graduate counseling students!- Includes full color reproducible worksheets with most activities.- Winner of the Counselor Writer of the Year Award, 2011, Georgia Regional AwardDownload Your Copy Today Only $39.95: See Creative Counseling 101 eBook Information Here:Get the Set 
of all four  
eBooks for only $98.95:
An incredible collection of how to do therapy eBooks!
A $159.80 Value,
You Save Over $60!Get your complete set of the Creative Counseling 101.com eBooks by Dr. Michelle Stangline for only $98.95, that's only $25.00 per eBook (Regular Price is $39.95 for each eBook.).Your complete set includes:- Creative Counseling 101- Creative Group Counseling 101- Creative Play Therapy 101- Creative Sand Tray 101For more information click the link below:See Complete Set of eBooks For Sale Here:
Invividual eBooks For Sale:Sand Tray Therapy 101 eBook:Learn how to do Sand Tray Therapy or enhance your skills.Sand Tray Therapy eBook for Sale LinkPlay Therapy 101 eBookLearn how to do play therapy or enhance your skills.Play Therapy eBook For Sale LinkSmall Group Counseling eBook For Sale:Learn how to do creative group therapy and enhance your skills.
Creative Group Therapy eBook For Sale Link

All Links can be found below and also on the Navagation Bar to the Left.
How To eBooks Creative 101 eBookGroup eBook
Learn More About It Creative CounselorShelter House Therapy Art Therapy Counseling Traveling Counselor Sand Tray Therapy  Career Counseling Test Positive Behavior
Play Therapy Methods Play Therapy Syllabus What is Play Therapy? Play Therapy Play Therapy History How to Do Play Therapy Play Therapy Warm Ups Play Therapy Rooms Play Therapy Toys Puppet Theaters in P.T.Creative Puppets Play Therapy Worlds Creative Masks Play Therapy Activities Make Your Own Tools Play Therapy Games
Art Therapy Color Psychology Creative Mandala 
Sand Tray TherapySand Tray History Sand Tray Class Self-Healing Sand Tray 
Anger ManagementAnger Management
AffirmationsAffirmations
See Examples More Examples Inner Child Creative Scents Self-Esteem Sugar Therapy  The Labyrinth Visual Imagery
Grief & Loss Stress ReductionBehavior Supports Brain Building Ideas Stop Nightmares Etiquette and Manners Make the World Better Place
Site InformationAbout Dr. Stangline Contact Me Affiliate Disclosure Disclaimer Privacy Policy Photo Gallery
Disclaimer: This website and its content is intended for trained licensed mental health professionals and school certified mental health professionals to use for their clients / students at their own discretion.
*If you ignore the disclaimer above are using these techniques on yourself and you feel any discomfort or upset it is highly suggested that you seek out a licensed  mental health professional immediately.
"Beyond Art Therapy" is the concept from Dr. Stangline that combines all creative fields in therapy. It is not the traditional "art therapy" but goes beyond to include sand tray therapy, play therapy, mindfulness, meditation, color therapy, cognitive behavioral therapy, and a vast majority of other therapies.
For any other type of mental health emergency call your local 911 / Police Number immediately.
Dr. Stangline does not offer advice / suggestions to anyone who is not a professional mental health provider, or a student who is studying this field and has questions about mental health programs of study.