See our Exciting Selection of eBooks:

Creative Counseling 101 eBook:
Our Best Seller!


Learn how to be a more Creative Counselor or Therapist with the Book that started it all!
I will teach you step by step therapy techniques as I do to my counseling graduate students at a major university.
Includes full color reproducible worksheets with most activities.
Winner of the Counselor Writer of the Year Award, 2011, Gwinnett County Public Schools and Georgia Regional Award
Download Your Copy Today Only $39.95 The Creative Counseling 101 eBook
Now, you can purchase all four Creative Counseling 
eBooks for only $98.95!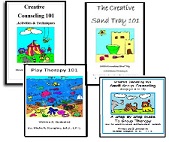 Get your complete set of the Creative Counseling 101.com eBooks by Dr. Michelle Stangline for only $98.95, that's only $25.00 per eBook (Regular Price is $39.95 for each eBook.).
Your complete set includes:
- Creative Counseling 101
- Creative Group Counseling 
- Creative Play Therapy
- Creative Sand Tray
For more information click the link below: