Create A Mandala In Therapy
Below: A Student's Example of a Mandala Created In Dirt (Dan R.):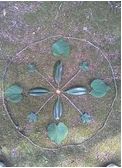 The Mandala is basically a circle. The circle is actually so powerful that it can bring the different personality parts of the creator to the mandala.
The mandala is a drawn symbol in a circle that is a therapeutic tool. It can help clients process what is going on within themselves on a deeper level than traditional "talk therapy".
Current research suggests that babies are born with the desire to look at circles. It is believed that this helps them bond with the face of the caregiver.
Human beings like to look at curved lines more than straight lines. Circles are the easiest shape for the brain to process as it looks the same up or down.
The circle also is a representation of "wholeness" or "full circle".
The mandala is a mirror of the self and can help bring our personality parts (parts of self or sub personalities) into the field of view or "awareness".
Mandalas can help us see what is going on with the deepest parts of the "self" and bring these parts together into wholeness. These parts become acknowledged and begin to work in harmony together.
Creativity in counseling is a powerful tool to help clients see their inner center and inner self. Creativity helps us see our "inner operating systems and energies."
When one uses creativity such as the mandala, they are able to go past the rational mind and look into the desires, fears, trauma, anxiety, dreams, and the many ego drives within.
How To Create Your Mandala:
1. Take a few moments to meditate and relax. Notice the images that appear in your mind. This is a form of visual imagery.
2. Take your mandala circle and using a chosen media (markers, paint, crayons, etc.) begin to doodle spontaneously. Let the image take on a life of it's own. Fill in the entire circle.
3. Your mandala might be filled with the images you have seen in your meditation, or it can be filled with shapes and colors.
4. When you have finished the mandala you will have a holistic representation of what is going on within your "self". It will show the "whole" picture, or part of the "whole" picture.
5. Translate your mandala with a detached curiosity and sense of wonder. Look at the mental patterns and energies in the forms within the mandala. Translate the feelings through the use of color.
Ask Yourself These Questions When Translating Your Mandala and Using Self-Confrontation:
Begin by breaking up the mandala into small pieces (mentally).
1. Do I see any patterns or themes within my mandala creation? Are there any hot spots, or ignored spots within my mandala?
2. Do I see anything in my mandala that might relate to a current or past problem? Do I see anything about the future inside my mandala?
3. Do I see any parts of myself in this mandala that need to be given attention?
4. Are any of my parts of self in this mandala competing for attention?
5. Do I see any negative influences or blocked energies?
6. Is there any pain, unhealed wounds, or trauma located within my mandala?
7. Do I see any hopes and dreams in my mandala?
8. What colors have I put inside of my mandala? Translate your colors by deciding what the colors mean to you. Look at "Color Psychology" on this website.
9. Do I have any unique and different shapes or squiggly lines that stand out? What do these mean to you?
10. Does the mandala tell a story? If so, what is the story about?
11. Look at the entire mandala and see if you can get a feel for the "big picture."
*You may also want to translate your work with a Symbols Dictionary. I often use a short cut for translating my client's mandala. See the Dream Dictionary on-line for more information.
Please remember that it is up to the client to give the full translation. No book or website can every fully translate a client's unique mandala.
References: Susanne F. Fincher, and Micheal Brown
Create A Mandala to Creative Mandalas

Create A Mandala to Creative Counseling 101 Home