Do You Want More Creative Counseling Ideas & Activities?
See The Selection of eBooks Below:
Creative Counseling 101 eBook : Our Best Seller!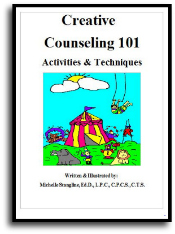 Learn how to be a more Creative Counselor or Therapist with the Book that started it all!
Learn step by step therapy with over fifty-five counseling and therapy techniques and activities. Includes full color reproducible worksheets with most activities.
Winner of the Counselor Writer of the Year Award, 2011, Gwinnett County Public Schools and Georgia Regional Award
Download Your Copy Today Only $39.95
The Creative Counseling 101
eBook


New! The Creative Small Group Counseling 101 eBook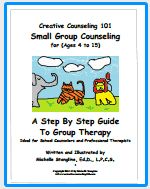 This ebook includes 252 pages of step by step group therapy ideas for school counselors and professional therapists.
Group topics include grief, anger management, friendship, self-esteem, positive behavior, and stress management with colorful, reproducible worksheets.
Download Your Copy Today (See Below Link):
Only $39.95
Creative Small Group Counseling 101 eBook


The Creative Sand Tray Therapy 101 eBook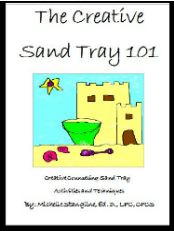 Learn about the creative sand tray therapy process. This is an exact replica of the graduate sand tray therapy class I teach at a major university in Atlanta. You get 147 pages of creative ways to do sand tray therapy. Also included are colorful, reproducible worksheets for your clients to use and take home.
Buy it today for only $39.95
Sand Tray Therapy eBook Information and Order Form


Creative Play Therapy 101 eBook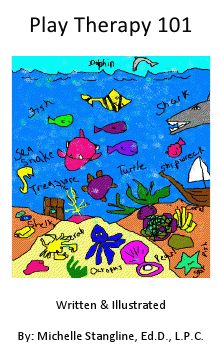 You can now learn everything I teach to graduate counseling students with this Creative Play Therapy eBook. The eBook has 25 sessions (181 pages) with step by step colored lesson plans and reproducible worksheets. Learn how to use the play therapy doll house, puppets, miniatures, miniature worlds, the sand tray, and more! If you work with children or teens then this book is a must have item for your practice.

Download your Play Therapy 101 eBook today!
eBook Play Therapy Book only $39.99
More Information for the Play Therapy eBook & Order Form


Custom
Sand Trays
For Sale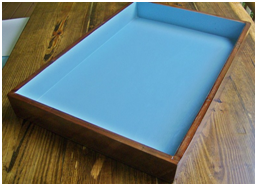 Custom crafted and hand painted traditional 'regulation sized' sand trays for sand tray therapy for sale, now with a free "Sand Tray Therapy 101" eBook. Each tray is handcrafted by a master woodworker. You get to chose from a selection of colors to customize your tray. It is then painted and stained in the traditional method of the regulation sand tray recommended by Dora Kalff. Matching Sand Tray lids and stands are also available. Click the link below for more information: