Art Counseling
With Creative Counseling 101
What exactly is an Art Counselor in play therapy you may ask? An Art Counselor uses creativity to apply the art of counseling to their private counseling practice or school counseling program.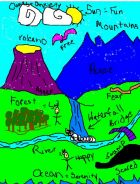 We are not art therapists, as we are not trained to be called this. However, an Art Counselor realizes that they need to be able to offer play therapy clients the ability to express their feelings in many different ways.
One of the ways a Creative Counselor does this is through Play Therapy Art Counseling.
Let me tell you about my journey as a Creative Art Counselor. I was lucky that I had studied art in college and even graduated from The Art Institute of Atlanta with a certificate in Interior Design. So, I had a small background in art that did give me an edge creatively.
Yet, as I began to practice the art of counseling I realized I needed more training as an Play Therapy Art Counselor. I called about some Art Therapy workshops and got absolutely nowhere.
I was told by one art therapist that she would not allow me to attend her workshop because I was a licensed professional counselor and not an art therapist.
She said that since she could not be an Licensed Professional Therapist that I could not be an art therapist. True, one does have to major in Art Therapy to call oneself an art therapist. But I was a counselor who wanted to help my clients express themselves in other ways than "talking."
For a while the door to learn more about incorporating art into my practice was shut. I only had the House, Tree, Person drawing, the Family Portrait, and the Self Portrait.
I did learn the Mandala in a workshop and that was an amazing new "tool" to show my clients. By the way, they loved it.
My world in Art Counseling opened up when I began my training as a Certified Trauma Specialist. As a trauma specialist, I learned the value of "drawing the trauma out of the self."
It was an incredible way to do therapy and really helped my clients deal with the issues and grief they were facing at the time.
As a supervisor for counselors seeking licensure I was horrifiedto see a child's drawing a supervisee brought into me. It was done on white paper and drawn with a blue pen.
The counselor only had blue ink pens and white paper for a child of trauma to express himself with.
Please do not be this type of counselor. We need to seek training and supervision in many areas, especially for our children clients who need more than "talk therapy."
After working with clients and students of counseling I began to call counseling with art "Art Counseling." We are counselors who utilize "The Art of Counseling", right?!
But we need to seek training in this area to make us effective. We also have the responsibility to be ethical to our clients.
As licensed counselors we need to take the time to seek training and supervision in order to be the best we can be for our clients.
Our clients deserve a counselor or therapist that is well trained and has many tools to offer them!
The Creative Counselor is that counselor or therapist. This website is meant to be a tool for you to use, but it is up to you to gain the supervision and training in all areas including art counseling.
Try this Creative Art Counseling drawing as an alternative to House/Tree/Person:
House/Tree/Water/Sun/Moon/Animal


Art Counseling to Family Portrait Drawing

Art Counseling to Self-Portrait

Art Counseling to Interpreting Drawings

Art Counseling to Creative Counseling 101 Home

Play Therapy Art Counseling to Play Therapy Pictionary

Play Therapy Art Counseling to Animal Self-Portrait